Vtech Nitro Notebook™ – Editorial Review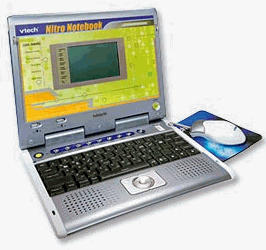 Product: Nitro Notebook™
Category: Educational Toy
Age: 5 years & up
Grade Level: Kindergarten & up
Company: Vtech www.vtechkids.com
Price: $49.99
Where to buy: Amazon, most major department stores
Rating: 4 out of 5
Description
The Nitro Notebook is a laptop-style computer with over 80 arcade-style educational games. The package includes the notebook, mouse, mouse pad, and the bonus "story time" and "sing along" cartridges.
Nitro Notebook™ Review
The Nitro Notebook, with its compact stylized design, looks and feels like a real laptop computer. The sleek external casing, internal keyboard, and real, working mouse give the typical 5 year old the illusion that he or she is working on a laptop just like Mom or Dad. The notebook operates on 3 "AA" batteries, but I highly recommend purchasing the optional A/C adapter available separately.
Upon turning on the computer, you hear fun music and the voices of children relaying the different play options. Our test group had no problems navigating through the simple interface, with the selection of eight category buttons across the top of the keyboard: Language Lab (Spanish), Word Zone, Math Mania, Science World, Social Studies, Game Time, Creative Studio, and My Tools. I would like to have seen a color display, but the school-aged children didn't seem to mind the grey-scale LCD and simple graphics. The variety of arcade-style games peeked and kept the interest of our test group for hours; they were having fun while learning Spanish, social studies, math, language skills, reading, art and music!
The schoolagers would often check the progress report feature which kept track of what they had learned… the children were actually excited about learning! The innovative and unique built-in "Learning Progress System" technology also kept track of the child's performance and automatically adjusted the skill level.
The Bottom Line

The Nitro Notebook is great for the school aged child that wants a laptop like Dad, but without the costs or worries that come with a real laptop. The arcade-style games provided hours of fun while learning reading comprehension, phonics, Spanish, math, social studies, art, music and more!


Pros
Educational - Develops language skills, cognitive development, and hand-eye coordination while teaching language and elementary school basics.
Fun – the acrade-style games and music made learning fun while the progress report feature made the children excited to see what they had learned.
The Learning Progress system kept track of the child's performance and automatically adjusted the skill level, keeping the games challenging while building confidence.
The compact size makes the laptop portable and can be easily taken from room to room or on the go.
Child-friendly, easy to use interface.
Cons
No A/C adapter (Can be purchased separately).
Gray-scale LCD.