EDUCATIONAL TOYS
For The 7 Month Old To 12 Month Old
DEVELOPMENTAL & EDUCATIONALTOYS FOR A 7 MONTH OLD BABY


How your 7 month old plays
At seven months old, your baby is becoming more mobile. He can support his weight and stand if he holds onto Mom or a piece of furniture. Some babies this age can pull even themselves up and cruise around the furniture while holding on. When lying on his tummy, he can either creep forward or position himself on his hands and knees and rock. He has improved hand-eye coordination and will now use his eyes to adjust the position of his hands as he reaches for an object.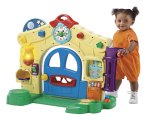 He is beginning to use his thumb to push objects into his hand, cupping the object with his entire hand. Your baby now prefers to look at more complex toys, and he can recognize your voices or familiar tunes.

Educational toys that develop skills
Activity tables and walkers are the perfect toys for the 7 month old. They help to develop confidence and strength during the standing and cruising stages. Cause and effect toys and toys that encourage your baby to crawl or stand on their own are other choices.


DEVELOPMENTAL & EDUCATIONAL TOYS FOR AN 8 MONTH OLD BABY


How your 8 month old plays
Your 8 month old can most likely crawl forward and backward. He is focusing on and developing small-motor skills. You'll notice that he now uses the pincher grasp which is used to pick up small objects between thumb and forefinger.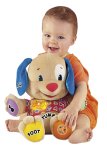 Your baby is babbling more often, first imitating vowels and then moving on to all the other sounds.

Educational toys that develop skills
At eight months of age, babies are capable of absorbing language basics at an accelerated pace. Early exposure to sounds, words, sentences, and stories can establish the foundation for language. The most significant way for you to influence your child's language development is to read and talk to your baby as often as possible. Books and toys that focus on language skills not only increase vocabulary and set the foundation for language, but have proven to also make it easier to learn a new language later on.

Babies this age love to explore and figure out how things work. Activity toys give them the chance to figure things increase thinking and small motor skills along the way.


DEVELOPMENTAL & EDUCATIONAL TOYS FOR A 9 MONTH OLD BABY


How your 9 month old plays
Your baby can now pull himself up the standing position and moves holding on to furniture. He can also sit alone and reach for a toy without falling over. He can pass toys from one hand to the other. Your baby is also getting better at communication -- he may lift his arms to signal he wants to be picked up and bang his spoon to signal he wants food.

Educational toys that develop skills
Your baby's skills are becoming more complex, including the ability to problem-solve. This is a great time to introduce shape sorters. And, with a new focus on physical milestones, your baby will also enjoy the freedom to roam that push toys will give him while building his muscles and confidence for walking.


DEVELOPMENTAL & EDUCATIONAL TOYS FOR A 10 MONTH OLD BABY


How your 10 month old plays
Your baby is probably cruising by holding onto furniture and can walk if you hold both his hands. He now looks for toys that he drops. He remembers that one event follows another, such as you put your coat on, and then you go out. A favorite game for a baby this age is, peek-a-boo. He'll watch your mouth as you speak, and he will often try to imitate you and others.


Educational toys that develop skills
Early learning toys that introduce simple concepts like letters, numbers, shapes and colors help thinking skills to develop and enhance vocabulary. Toys that encourage walking or crawling help to develop large motor skills. You can help your baby's tactile perception skills by pointing the different shape, colors, sounds, and textures on an activity toy.



DEVELOPMENTAL & EDUCATIONAL TOYS FOR AN 11 MONTH OLD BABY


How your 11 month old plays
Your eleven month old is probably standing up on his own and sitting back down without falling. He's most likely cruising along furniture, and some babies may begin to walk at this age.


He is babbling, and may say a few words. He can respond to one and two word commands. While he knows what the word "no" means, he can't refrain from trying something anyways.

Educational toys that develop skills
Sports toys, such as baby basketball or baby baseball, are great choices to exercise motor skills. Snap-together and stacking toys are perfect for improving dexterity and practicing fine motor skills. If your toddler has good balance, a push or pull toy is great for practicing walking skills and building self-confidence.


DEVELOPMENTAL & EDUCATIONAL TOYS FOR A 12 MONTH OLD BABY


How your 12 month old plays
Your 1 year old loves to imitate Mom and Dad, especially with actions such as talking on the phone, sweeping, cooking, or pushing a shopping cart. He'll now move a blanket to reveal the toy hidden beneath it. Your toddler understands what is being said, and displays affection in the form of hugs, kisses, and smiles. He is becoming more and more independent with his increased mobility and coordination.

Educational toys that develop skills
Toys that develop imaginative play, such as doll houses and animal farms, create a fun environment where your toddler is in control. Your toddler has the opportunity to use creative thinking skills as he imitates real-world experiences and makes new discoveries all on his own. Construction tools and blocks develop motor skills and let your toddlers imagination guide him.


---

ARTICLES ON EDUCATIONAL PLAY

RECOMMENDED BOOKS

How Your Baby & Child Learns: Give Your Baby & Child the Best Start (Parent Smart), by Penny Shore, Penelope Leach, William Sears, Martha Sears, Oto Weininger, International Advisory Council on Parenting

The Baby Book: Everything You Need to Know About Your Baby from Birth to Age Two, by William & Martha Sears
Your One-Year-Old : The Fun-Loving, Fussy 12-To 24-Month-Old, by Louise Bates Ames, Frances L. ILG

EDUCATIONAL TOY BRANDS FOR THE 7-12 MONTH OLD

TOP EDUCATIONAL TOY RETAILERS

PARENTING RESOURCES