EDUCATIONAL TOYS
For The 2 Year Old
DEVELOPMENTAL & EDUCATIONALTOYS FOR A 2 YEAR OLD


How your 2 year old plays
At two years of age, your toddler has become more active both verbally and physically. He has very good hand-eye coordination, and has developed large motor skills. Your toddler jumps and hops, and walks up and down stairs with no problem. Your two year old can give reasons, solve problems, and understand and respect rules. Social play with other toddlers becomes more important at this age, as does relationships with parents. While your toddler enjoys social play, he may not share toys and can become possessive and uncooperative. In fact, your two year old's favorite words are "Mine" and "No" and "I do it!" Your child most likely imitates Mom and Dad, and likes to do what you do. The most time is spent in the area of independent play, and imaginary play. This type of play creates an opportunity for learning new skills, such as problem-solving, creativity, self-care, and much much more. In the area of language, a two year old understands commands and puts together words to form simple sentences. Your toddler also starts to use "I," "me" and "you."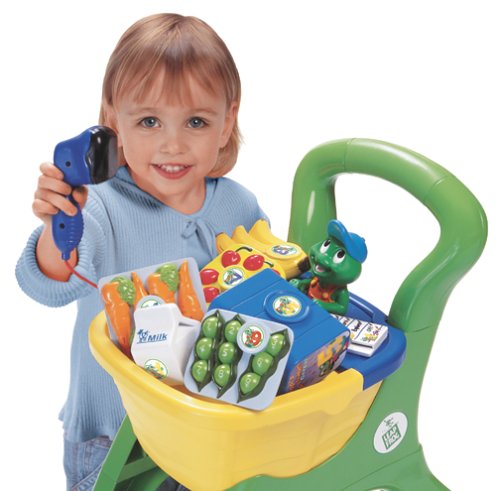 Educational toys for your 2 year old that develop skills
Themed play sets, such as the Little People Discovery Toys, give your child the ability to make all the decisions in creative and and imaginary play. Making decisions and controlling all the action in play helps to encourage creativity and build your child's self-confidence.

At this age, many children are also fascinated by trains, cars, trucks and helicopters. These educational toys help your child learn through role-playing the various jobs and roles represented, while encouraging communication as kids express ideas and learn new ways to interact.

Two year olds love to imitate what they see Mom and Dad do in everyday life. Providing the right educational toys and props set the stage for imaginative play, encouraging social skills. This is a great time to introduce toys that mimic household items -- kitchen sets, shopping carts, toy vacuum, tool sets, or a toy push lawnmower.

Repetition is important in the development of language. Learning or educational toys that focus on phonics, letters, colors and shapes, can increase vocabulary and set the stage for improved reading and linguistic skills in the future.



---