EDUCATIONAL TOYS
For The 3 Year Olds To 4 Year Olds
DEVELOPMENTAL & EDUCATIONALTOYS FOR 3 TO 4 YEAR OLDS

How your 3 year old plays
This is an active time for your toddler. He runs, climbs, jumps, hops, and is very reluctant to be still. He can throw or kick a ball for short distances, and is beginning to learn how to catch. He realizes that drawings can look like faces or people and starts to draw intentional objects. Your 3 year old loves to role play as someone else and plays dress-up quite frequently. Imagination is probably in full gear by now and can be fostered by incorporating costumes and props with dramatic play. He begins to show sympathy and empathy for characters in stories.

How your 4 year old plays
Your four year old's motor skills have grown by leaps and bounds. He can use a monkey bar, ride a bicycle, dodge, swim, dance or use a trampoline. Your pre-schooler is adding details to drawings although the size and number may not be correct. He may be able to print his name. He is more sensitive to the fact that other people have thoughts and feelings that are different from his own, and he will take this into consideration in his interactions with others. Usually around this age, many children enter preschool programs, making language skills necessary for learning in the classroom.



Educational toys that develop skills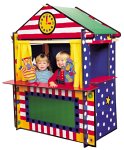 Imaginative play peaks at this age range, and toys that encourage dramatic play such as themed playsets, toy household object, and puppets are favorites among the preschooler.


Creative activities like drawing are a great way to encourage your child's self-expression. Being able to practice something over and over helps refine hand and finger control as well as eye-hand coordination.

Educational toys that develop key reading readiness skills like ABCs, counting, object, shape, color identification, and cognitive development are a great choice for the preschooler. Interactive Flip Books, like My First LeapPad, that feature a story on one side and activities, games, and music on the other help to build pre-k skills.


---