Vtech V.Smile TV Learning System – Editorial Review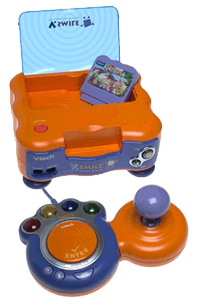 Product: V.Smile TV Learning System
Category: Educational Toy
Age: 3-7 years of age
Grade Level: Preschool, Kindergarten, Grades 1 and 2.
Company: Vtech www.vtechkids.com
Price: $59.99
Where to buy: Amazon, most major department stores
Rating: 4.7 out of 5
V.Smile Description
The Vtech V.Smile TV Learning System is an interactive, educational TV gaming system developed especially for children between 3-7 years of age. The package includes the console game system; one joystick; and the Alphabet Park game.
V.Smile Review
Upon opening the package, the test audience – preschoolers in this case – were eager to play, as the brightly-colored orange and purple console like gaming system caught their interest and looked "fun". The gaming system itself has large, lighted buttons for easy use by younger children, and has a convenient storage compartment that holds up to six "smartridges" (educational gaming cartridges). The V.Smile system operates on 3 "C" batteries. The battery life is used up fairly quickly; therefore I highly recommend purchasing the optional A/C adapter available separately. The set up was simple: just plug in two jacks and insert a "smartridge" and the game was ready to go.
The V.Smile joystick was a hit among preschoolers, with a bright, oversized "enter" button and four flashing colored buttons. The innovative joystick is interchangeable for left or right handed users. The younger toddlers found the joystick a little awkward to manage, but had fun trying and were able to maneuver with no problem after ample practice. An additional joystick can be purchased for multi-player mode if there is more than one child in the house or parents want to get in on the excitement.
A variety of educational games, or smartridges, based on age and skill level are available for lessons in preschool and elementary basics.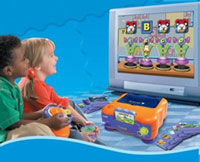 The V.Smile smartridges are geared towards three age groups: Early Learners (Age 3-5) – teaches counting, letters, phonics, numbers, vocabulary, colors and shapes; Junior Thinkers (Age 4-6) – teaches spelling, music, math computation, vocabulary, patterns & logic, and time-telling skills; and Master Minds (Age 6-8) – teaches vocabulary, spelling, problem solving, advanced math, geography, art and creativity. The game graphics are limited, but the V.Smile users didn't seem to mind… they were having too much fun! Featuring a variety of popular characters, the age appropriate games were challenging enough to hold the child's attention but not so difficult that it caused frustration. A pleasant sounding voice encouraged the children to "try again" when the character moved the wrong direction or an incorrect answer was given. Each smartridge has two modes of play: a learning adventure mode for learning through an arcade game-like experience and a learning zone mode for unique skill-building games. The youngest of the preschoolers did have a little difficulty maneuvering in the learning adventure mode, but were mesmerized by the games in the learning zone mode. In addition to the two modes of play, the user can also choose from easy or difficult settings and one or two players. The variety of games and modes of play creates a gaming system that is scalable to each child's level, allowing the game to grow as the child develops in his or her skill sets. Some children had difficulty inserting and removing the smartridges and parental assistance may be needed.
V.Smile Review -The Bottom Line
The V.Smile TV Learning System combines the excitement of console games with lessons in math, language, music, and more. Learning is fun with the V.Smile, and it's a wonderful alternative to traditional video gaming. The different modes of play and availability of educational gaming cartridges geared towards age and knowledge level create an educational gaming system that will stay fresh and fun and will probably be a favorite for years to come.

Pros
Educational – develops cognitive, language, motor and sensory skills.
Fun – the children were having fun as they learned.
Scalable to the child's level with a variety of smartridges and gaming modes.
Smartridges are age appropriate: challenging enough to keep attention, yet not so difficult that they cause frustration and loss of interest.
Smartridges feature many of the popular characters.
Joystick can be adjusted for left or right handed users.
Two player mode is available with the purchase of a second joystick.
Child-friendly, easy to use, large buttons.
Easy to set-up.
Storage compartment on unit keeps smartridges organized.
Cons
No A/C adapter (can be purchased separately).
Joystick can be tricky at first for younger preschoolers.
Smartridges are difficult for toddlers to insert and remove themselves.