2005 Holiday Hot Dozen Toys Announced!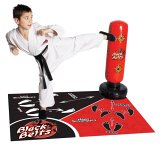 The annual list of the hottest toys for Christmas was announced on Thursday, October 6, 2005 by the Toy Industry Association and Toy Wishes Magazine. The list forecasts which toys will be the most popular this Holiday season, and most likely the toughest to find. The traditional fashion Barbie dolls and Bratz were replaced on this year's toy must-have list by high tech electronic toys and entertainment devices.
2005 Hot Dozen Toy List – alphabetical order
(Reuters)

Black Belts Karate Home Studio: An at-home karate studio that helps younger kids learn the basics of karate, comes with a video. By SpinMaster.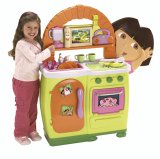 Dora's Talking Kitchen: A talking kitchen set incorporating the popular bilingual Nickelodeon character. By Mattel unit Fisher-Price.
Fly Wheels Assortment: An updated assortment of the rip-cord operated Fly Wheels, including stunt ramps, rapid-fire launchers, and a radio-control version. By By Jakks Pacific
Furby: A new version of the 1990s favorite. Advanced technology and "emoto-tronics" make Furby seem more real with facial expressions, and communication in English and "Furbish". By Hasbro.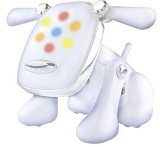 I-Dog: A robotic dog with iPod styling that responds with lights, sounds and movement to whatever music you play. Can also be used as a speaker. By Hasbro.
iZ: A posable three-legged music-making creature that can also be used as a speaker. By Zizzle.
Leapster L-Max Learning Game System: A more advanced version of last year's handheld educational video game system. Can be plugged into the television for dual-screen capabilities. By LeapFrog Enterprises.
Magnetix MagnaWorldCity: A magnetic building set using magnetic rods that snap together with steel balls. By Rose Art.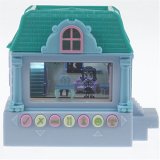 Pixel Chix: A handheld game featuring a virtual house with an animated girl. Characters play games and change fashions. By Mattel.
Shell Shocker: A radio control vehicle that transforms from a "cyberball" to "cyberbeast." By Mattel unit Tyco.
VCam Now: A real digital video camera for kids that can make movies and take still digital photos. The camera can be hooked up to the computer to store images, or plugged into the television to watch videos. By Hasbro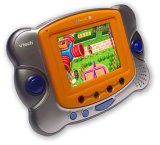 V.Smile Pocket: Handheld version of the V.Smile educational video game system. By VTech

Editorial Revew of V.Smile Pocket
Editorial Review of V.Smile TV Gaming System